Hunting Packages
Major League Bucks understands that time is something that there never is enough of in this busy world. With this in mind we will be very flexible to allow you to customize your hunt to whatever fits into your schedule. Most hunts will be 3 days/nights but if that doesn't work for you just ask when you contact us, and we can try our best to adjust for whatever will accommodate you.
You can choose to hunt with whatever weapon suits you and whatever method you prefer: Rifle, archery, muzzleloader or pistol. Sitting, still hunting or spot and stalk methods can all be used. We've got heated ground blinds and elevated stands, Ladder stands and hang-on stands. Many choices to keep you from getting bored with the same old stand and to keep the deer guessing. Bottom line is your happiness is key to having this be a successful and enjoyable hunt, so however you'd like to hunt while you're here, we'll do our best to accommodate you.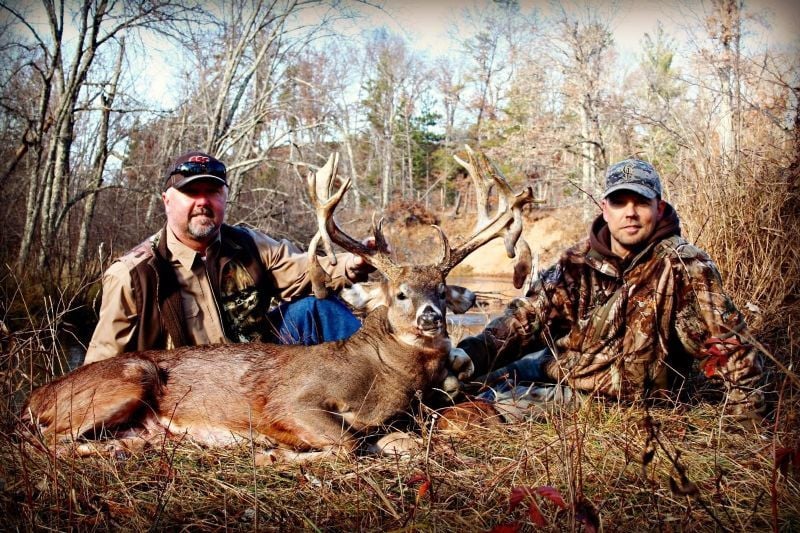 Hunting Gallery
Click to view gallery
Whitetail Hunts
Whitetails are our specialty here at Major League Bucks. Let us know what type of buck you are looking for and we will do our best to help you get your trophy.
Under 170" - $4000
170-185" - $6000
185-200" - $7500
Over 200" - $8000 up to ??? Depends on look and availability.
Multiple buck and group discounts available.
$1,000 Non-refundable deposit needed to book your hunt.
Elk Hunts
We will offer a very limited number of elk hunts per year. We've got a small herd of huge Manitoba strain elk here at Major League Bucks. Some of our bulls weigh in excess of 1,000 pounds and have racks that will score over 500". These hunts should be done in late summer or early fall to take advantage of seeing and hearing them during the rut.

Cow hunts - $1,500
Bulls - call for availability.
Terms & Conditions
All scores are based on gross SCI scoring
Hunts are fully guided. Your guide will determine which classification each buck falls in before any shot is taken.
Draw blood policy in effect. Draw blood counts as a kill. Every possible effort will be made to recover all animals.
All weapons welcome. Hunting method is hunter's choice.
Hunt includes lodging, meals, guide fees and field dressing of your animal.
Not included is meat processing, taxidermy, travel to and from camp, tips